Author of the Month!
I'm thrilled to announce that I am one of the featured authors at the Mystery Club at
Barnes&Noble.com
this month! The Mystery Club moderator is the fabulous Becke Martin, so please come by and visit, leave a comment, ask questions about
Homicide in Hardcover
, tell me a joke, anything you want! Let's talk. I'll be there all through March!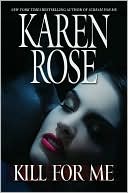 I'm doubly excited because also featured this month is the marvelous New York Times bestselling author
Karen Rose
(fangirl moment--wheeee!!), so please stop by and say hi to Karen, as well!
Cheers!
Labels: Barnes and Noble, Becke Martin, Karen Rose